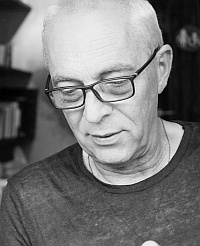 It is with deep sadness and regret that we inform you that on 20 September our colleague and friend Marek Kopyt passed away. He was a long-term employee of the Educational Research Institute and the leader of two editions of the project "Operating and developing the Integrated Qualifications Register".
He will remain in our memory as an extraordinary man, gifted with a great sense of humor and many talents, energetic and ready to draw from life to the fullest, a lover of wine, good books and music, popularizer of information technology, brave, creative and charismatic leader, great companion, but above all, a very good and sensitive person.
Dear Marek, working with you was truly unique - you leave behind precious memories and a huge void that nothing and no one can fill. After Michael Buchberger, you repeated "We do not live to die; but we die to live forever." You will forever remain in our memories and hearts.
Our deepest sympathy goes to the family and friends.
Colleagues from the Educational Research Institute.
***
Marek Kopyt
A mathematician with a humanist's soul and a philosopher's bent. He was a manager, computer scientist, and information systems designer. Graduate of the Faculty of Mathematics, Informatics and Mechanics of the University of Warsaw. Author of books and articles on computers, information systems, and the Internet. Co-founder of two independent schools, developer of school curriculum, instructional software, school textbook author.
In the work on the Integrated Qualifications System, he was responsible for the preparation of the concept of the Integrated Qualifications Register (IQR) in Poland and for the design and implementation of the IQR information system; he was the originator of numerous solutions within the IQR, both operational and planned. He was a member of the ESCO Maintenance Committee at the European Commission, the Information Technology Team Leader at the Educational Research Institute, an international expert and a member of teams in EU projects on qualification systems, validation, vocational and adult education in Poland, North Macedonia (Twinning, Erasmus+) and Barbados (ECDC).
EU expert in projects related to qualification registers. He represented Poland in the work of the advisory group for EQF/Ploteus portal. He was a member of the Working Group on Artificial Intelligence (GRAI) at the Chancellery of the Prime Minister. He participated in the design and implementation of a wide variety of IT systems, from reservation systems for the Polish State Railways to the first Polish online edition of the Rzeczpospolita newspaper.